COMSA is one of the digital currencies that recently attract more people.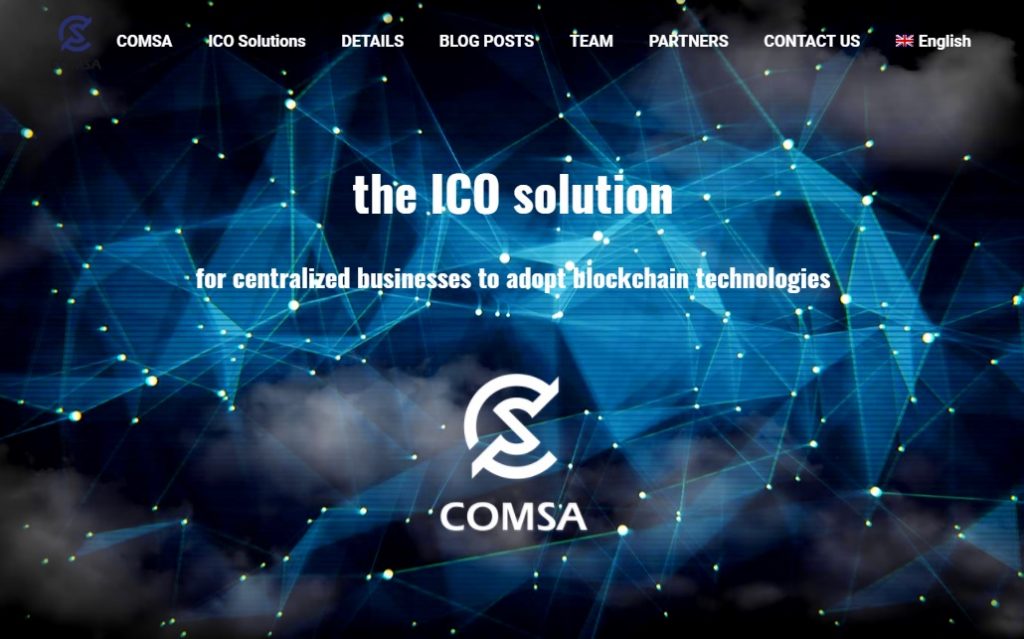 In this article, we explain why COMSA is popular in Japan and reveal how to get involved in COMSA-ISO and how to buy the token (CMS).
What is COMSA?
COMSA is an ISO platform developed by a Japanese firm TECH BUREAU.
One package consolidating "mijin", a Blockchain provided by the firm, a public blockchain by NEM and a Japanese market for digital currency named "ZaifExchange", enabled any firms to issue tokens and to fund by using ICO.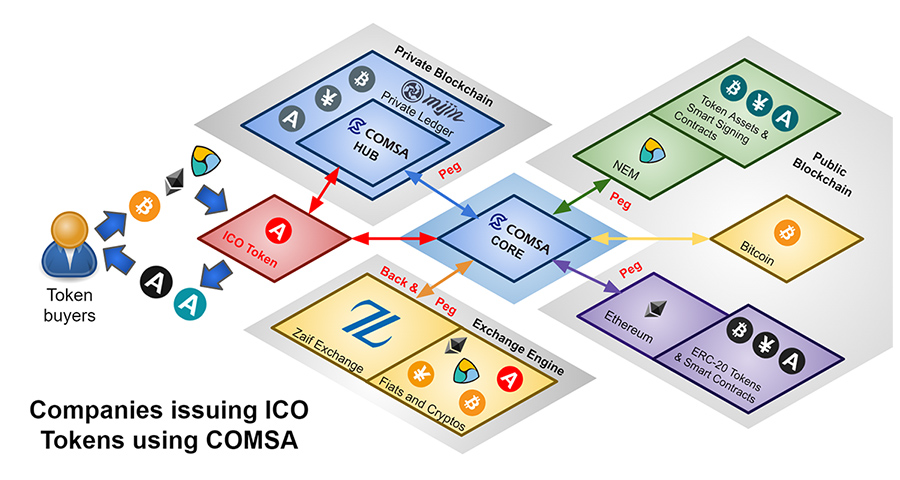 While ICO is held with many participants by ICOBox(ICOS) that has sold over 100 millions as of 9th September 2017, ICO-COMSA in Japan has also achieved 150,000 pre-registrations and is getting more popular in the world, especially among the Russian community.
Japanese startup plans one-stop ICO platform fueled by $25M from VCs and a $60M ICO https://t.co/RPnhRAkYsM by @jonrussell

— TechCrunch (@TechCrunch) 2017年9月8日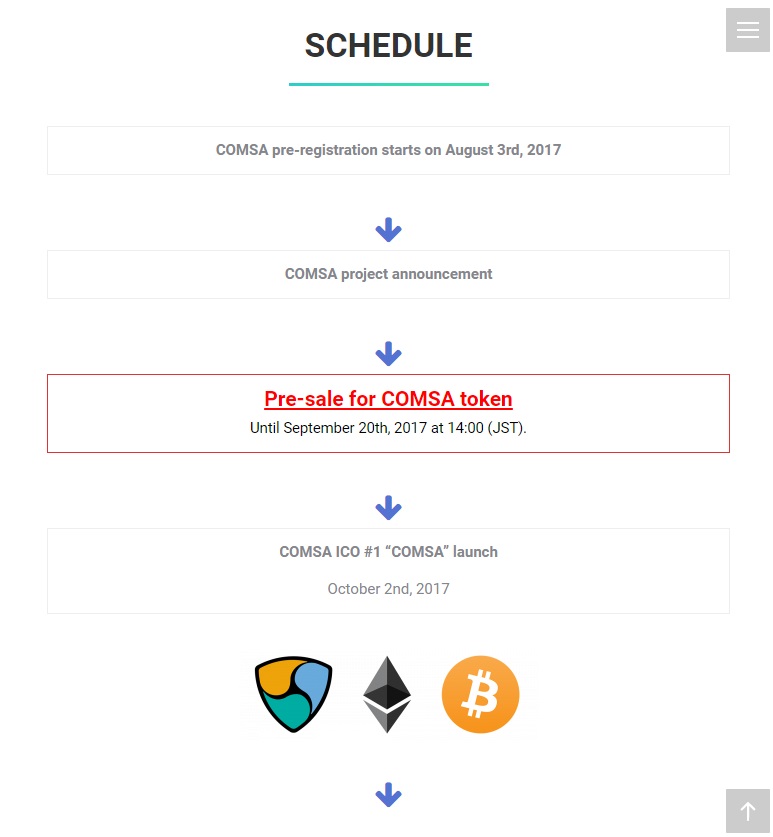 While ICO provided by COMSA is still preparing for public-sell available for investors, the pre-sell is now open to investment firms and investment of $100,000~10,000,000 has been actively made.
Already over 3 million USD, thanks!! https://t.co/u7Ha51MXHS

— COMSA Global (@comsaglobal) 2017年9月9日

Why has COMSA successfully gained its popularity in Japan that has been behind the other nations in ICO?
Why does COMSA attract Japanese investors?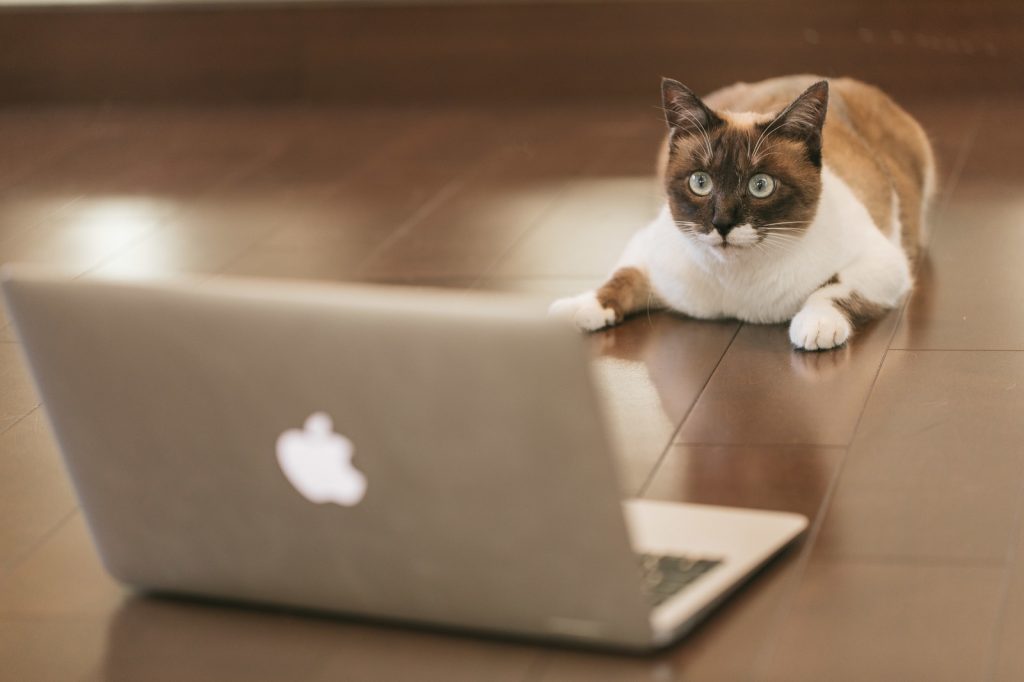 There are some elements that COMSA is outstanding in Japan as followed;
– It is the first decent ICO.
– The firm and engineers are reliable.
– It is well-assessed by investment firms and very active in pre-sale now in progress.
Let's see them, one by one.
The first decent ICO in Japan.
Digital currency with trust undermined by media
There have been no firms that held ICO excluding some fraud cases.
Japanese Yen is basically a stable fiat currency. You may believe it one of the causes that no one has found digital currencies as useful, but what made people believe digital currency unacceptable is the bankruptcy of "Mt. GOX" that was located in Tokyo.
There were only 1,000 Japanese who put their assets to the exchange market by Mt. Gox at that time. The news that treated its bankruptcy in a negative way, however, made Japanese people think digital currencies, in general, as dubious, which eventually put Japan behind the other nations in digital currency market development.
In fact, Japanese people tend to underestimate entrepreneurship, and this was the same with digital currencies. As shown in the following examples, only some brands that successfully gained trust by cooperating with top firms also gained popularity;
– Ripple(XRP) that was funded by Google and one of the Japanese major banks (Sumitomo-Mitsui Bank Corporation)
– Ethereal(ETH) that TOYOTA shows interests in
– Lisk(LISK) that has partnership contract with Microsoft
This is very interesting point to note why COMSA that successfully gained its popularity in Japan because a anonymous currency, Monetro(XMR), for completely different reasons, attracted the U.S. market that was found to be monitored.
Digital currencies with trust improved by major firms
More major firms in the market made Japanese people trust digital currencies, and they have been gradually treated in more positive way in media, all of which enabled a departure of the Japanese ICO after COMSA had been made.
We can say that COMSA is an phenomena where ICO was recognized by many of the Japanese who had been completely unaware of Enthereum, MobileGO or OmiseGo when they appeared at ICO.
That is a brand-new style of investment they had not known, and they are now excited with its potential trend.
Development by the trustworthy firms and engineers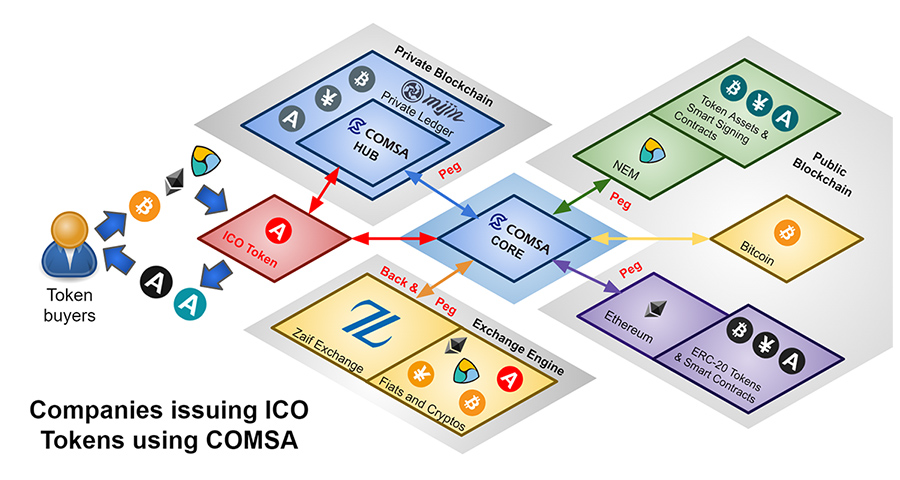 – CMS, a token issues by COMSA-ICO, is to be traded at Zaif, an exchange operated by Tech Bureau for digital currencies.
– Zaif is the exchange with the third largest amount of transactions.
– Blockchain used here is not Ethereum but mijin developed by the firm itself.
– Public blockchain introduced here is NEM that Takao Asayama, the CEO of Tech Bureau, has provided advisory service in Japan
– Bitcoin, Ethereum and NEM are available at ICO.
The first ICO is not mere an event where only one firm issues tokens but also a platform where many firms can provide ICO. This greatly contributed to the popularity of COMSA.
Japanese people adversely or positively value quality and trustworthiness.
In general, well-organized techniques, process and knowledge on market are necessary whet it comes to technology including digital currencies. But topicality is more important in Japan.
As with the case of Mt. Gox, topicality is particularly valued in Japan to assess the quality of things.
In fact, they tend to purchase not vehicles no one has but those everyone has, which is an example of their way to understand a brand-new technology and follow the trend.
While there are some fraud cases in the foreign nations in the ICO world, Tech Bureau which provides ICO platform has introduced its own style by completely developing its service with own or similar techniques greatly different from ICOBox in order to secure its trust and shares in the blue ocean of Japanese market.
Regarding its public blockchain, the firms introduced NEM which Takao Asayama, the CEO of Tech Bureau, has provided advisory services. Major developers of NEM also committed to the development of COMSA and mijin in order to avoid "the Tragedy of the DAO" triggered by the vulnerability of Etheream.
While the market faces some troubles where tokens are not provided after transactions in the other nations, Zaif Exchange, a Japanese digital currencies exchange where token CMS is to be traded, is operated by Tech Bureau that operates COMSA.
Zaif Exchange boasts its second oldest history in Japanese digital currencies exchanges and the third largest amount of Bitcoin transactions for 24 hours transaction in Japan.
More popularity among investment firms and digital currencies users
The firm has forged a valid cycle to achieve high security and trustworthiness (and its ambition?) for COMSA.
We have just hit 80,000 registrations on our dashboard. Thx!!
COMSA – the ICO Solution for Centralized Businesses https://t.co/RsxrHwnu4E

— COMSA Global (@comsaglobal) 2017年8月31日
It may sound a little bit inflexible business model for the firms using COMSA, but its stability is perfect and many firms make investments for the package, including "Fisco", a Japanese venture capital who put $10,000,000 at the pre-sale.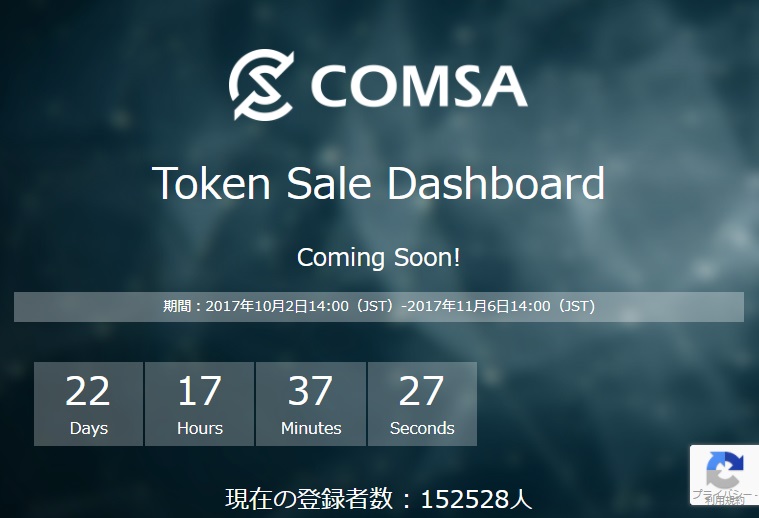 Some articles and comments on the package at blogs and Twitter made it more known, and 150,000 users have already completed their pre-registrations for COMSA-Public ICO to be held on 2nd October, 2017.
What can you do with token CMS by COMSA?
The token called "CMS" available at COMSA ICO is exchangeable at Zaif Exchange operated by Tech Bureau and you can also use them to purchase token at ICOs that use COMSA platform later.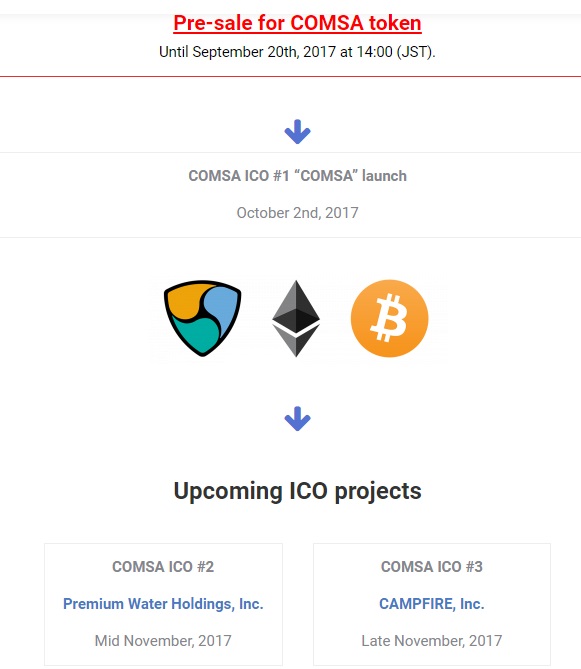 Some firms that introduced COMSA have already been launched, and the token "CMS" enables firms in ICO to obtain bonus token of 5% compared to the token issued by the following firms;
– Water dispenser bland for Japanese households
– Crowdfunding firms for Video games development (such as Kickstarter)
It depends on you how you feel, but ICO COMSA is a Japanese brad anyway.
Why not participate in it with you PC or smartphone?
Purchase of COMSA-ICO in a ordinary sales and Participation
[Abstract]
Wholesale transactions are available to investment firms with the minimum amount of $100,000.
Retail sales is to be 2nd October 2017. The details have not been disclosed, but we explain the expected process.
Process to participate (To be confirmed)
We believe the following steps should be taken to purchase the token by COMSA, "CMS" at ICO;
Registration with COMSA ICO dashboard
Create your own address to receive your currencies available at COMSA dashboard
Send your money to your COMSA dashboard and purchase CMS
You don't have to visit all the way to Tech Bureau in Japan as digital currencies are exchangeable at low price with high speed anywhere.
You can complete your purchase at home or your workplace.
The process would be as easy as that for MobileGO and ICOBox unless Tech Bureau make some unexpected changes.
Please note that you complete your registration with exchanges such as Poloiex or bitFlyer, and wallet to send you digital coins. You should also finish your registration with Zaif Exchange, Tech Bureau's exchange, to save CMS obtained at ICO.
1. Pre-registration with COMSA dashboard
COMSA dashboard is a wallet where you can temporarily save your digital coins and exchange for CMS. Please complete the registration to receive notifications from COMSA.
COMSA now launches Bounty Campaign where volunteers provides translation for the official site and news.
As there has been great progress in the translation into English, please do not forget to check the official site if you are prospective participant of ICO.
2. Create your own address to receive your digital coins (BTC, ETH and XEM) available at COMSA dashboard
The dashboard function is now locked and unavailable, but you may create the address for Bitcoin (BTC), Ethereum (ETH) and NEM (XEM) on the dashboard of COMSA.
3.Send money to COMSA dashboard and purchase CMS
You can send your coins to the address you created from the digital currencies exchange or wallet of your daily use
Remittance is completed in 5 minutes ~ 24 hours.
COMSA ICO Bounty Programs have just launched!
[ICO][Bounty]: Official COMSA Project Bounty Campaigns https://t.co/kG49gM69mT

— COMSA Global (@comsaglobal) 2017年8月30日

Dashboard will be localized by Bounty Campaign or further developments, and so the purchase process will not be difficult.
Please pay attention not to make a mistake in putting address for remittance.
Once you fail, the assets will never come back to you.
Conclusion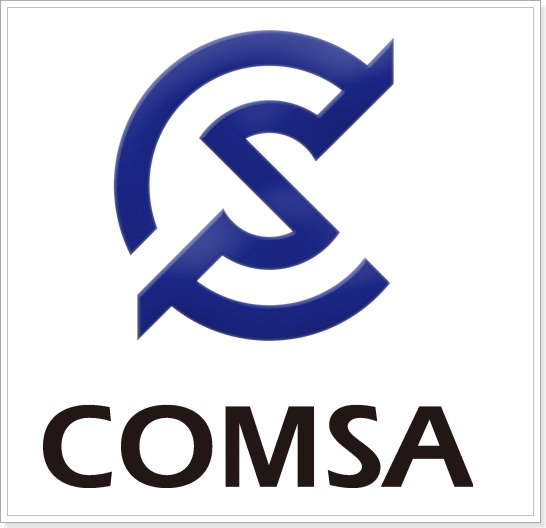 We have expected what popular COMSA will be like and how to participate in ICO.
In my opinion, COMSA is the token to manage not in short-term but in medium-long term, considering that COMSA is a platform for businesses.
The official site of COMSA says that CMS is to be managed with its price fluctuation controlled as minimum as possible.
COMSA will not excite you as well as the other ICOs at the center of the market does, but its reliability is perfect.
Why not try ICO COMSA in Japan?
*Please note that you invest your own money in digital currencies on your own responsibility.